Ken Hauck Towing offers a fast and reliable heavy duty towing service for large transport trucks throughout Alberta, including the Medicine Hat and Suffield Block regions. We are also prorated to Saskatchewan, and cover the Western region of this province.

With over 27 years experience in providing breakdown and recovery services, and as one of the leading towing companies within our catchment area, we have the expertise to assist you when you need help.

Our team of skilled roadside operators are furnished with the latest recovery techniques and equipment to ensure that they can recover any heavy duty truck we are called on to assist. Our operators also carry all the necessary safety tickets required to provide assistance for road-side breakdowns and recoveries. We are able to offer a site clean-up service for both hazardous and non-hazardous spills.

Ken Hauck Towing is available 24 hours a day, 7 days a week, to meet your towing and recovery requirements.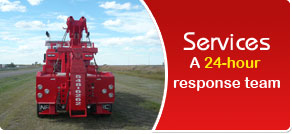 Ken Hauck Towing
Box 1287