Towing
Ken Hauck Towing provides a fast and efficient 24-hour towing service within our catchment area of Alberta and Saskatchewan.

We have two tandem units for all your towing and recovering needs. We can help you recover even the heaviest of transport trucks. We are also able to tow both truck and trailer as one unit.

Our operators are trained in the latest techniques for towing heavy duty transportation trucks, and, as such, can provide you with reassurance that your vehicle will not be damaged during transit.
Recovery
You can also rest assured that your vehicle will be covered by our insurance whilst it is in our hands.Ken Hauck Towing provides a rapid response to your breakdown needs, whether it is due to a road traffic accident or mechanical fault. We have two units available to upright and recover your vehicle. Our team of operators is highly skilled in ensuring that this is accomplished without incurring any damage to your vehicle.

Should you require temporary storage of your damaged vehicle while you make other arrangements, Ken Hauck can store your vehicle within our secure 24-hour compound.
Other Services
There are many services that Ken Hauck Towing is able to provide to help you get your vehicle up and running again. These include:
A 24-hour response team
The unloading damaged trailers, and the reloading of new units (to be supplied by the customer)
Site clean-up
Zoom boom for site clean-up tasks, snow removal, and also to aid in the unloading and loading of damaged trailers .
Temporary storage of damaged vehicles in our 24-hour secure compound
A used parts service
A licensed inspection station, enabling our approved mechanics to perform safety inspections
Traffic Control Unit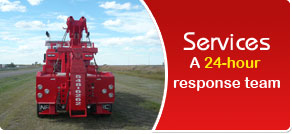 Ken Hauck Towing
Box 1287