Ken Hauck Towing provides a professional heavy towing service throughout Alberta and Western Saskatchewan. We are located in Redcliff, Alberta, at the corner of South Hwy Drive and Range Road 65.

Since 1985, Ken Hauck Towing has been supplying a comprehensive breakdown and recovery service to the heavy duty truck industry. We are equipped to deal with both breakdown and road traffic emergencies quickly and efficiently.

Upon call out, we will recover your big rig using one of our two heavy tow trucks. We can store the damaged vehicle at our secure 24-hour compound until you have made alternative arrangements for it.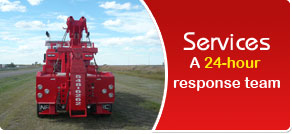 Ken Hauck Towing
Box 1287